At Chicago Med Group
Our Vision Is To Keep You Healthy And Fit
COVID-19 INFORMATION
Coronavirus disease 2019 (COVID-19) is a respiratory illness that can spread from person to person. Symptoms include fever, cough and difficulty breathing.
If you have any symptoms or suspect you have been exposed, please first call our office:
773-755-2600
Our appointments are switching to televists/virtual visits until further notice. Please call us for exceptions. 
COVID-19 INFORMACION
La enfermedad del Coronavirus 2019 (COVID-19) es una enfermedad respiratoria que puede ser transmitida de persona a persona. Los síntomas comunes es fiebre, tos y dificultad para respirar. 
Si usted tiene unos de los síntoma o sospecha que ha estado expuesto. Primero puede llamar a nuestra oficina al:
773-755-2600. 
Nuestras citas están cambiando a televisores / visitas virtuales hasta nuevo aviso. Por favor llámenos para excepciones.
 Actualmente estamos ofreciendo visitas virtuales/ Telemedicina (consultas por teléfono) para que nuestros pacientes limiten los viajes y posible de exposición del Coronavirus (COVID-19) 
Enhancing your life through medical, lifestyle and nutritional excellence!
We are eager to provide you with a comprehensive wellness plan including nutrition and lifestyle. Both Doctor Munoz & Dr Cvengros provide a supportive and educational holistic, plant-based environment, advice and resources.
Our goal is to make medicine warm, welcoming and accessible for everyone. Have a question or concern? Schedule an appointment today with Dr Munoz or Dr Cvengros.


Our goal is to ensure you are healthy and informed.

Our doctors and staff are your advocates and here to help.
Schedule an appointment today
NOTE: During the COVID-19 lockdown, we are OPEN and doing patient care via telemedicine.
Please call us to schedule at 773-755-2600
We are a PPO clinic & we accept most PPO Insurances. We understand insurances are unnecessarily complicated and we are here to help. 
To verify your insurance eligibility with our clinic, call us at 773-755-2600 and we will be glad to confirm.
As a rule of thumb, if your insurance card has a "PCP" or "Primary Care Provider" listed with a clinic or doctor name printed – you most likely have an HMO policy.
We welcome Self-Pay and Uninsured patients. We offer discounted rates for all our in-clinic services.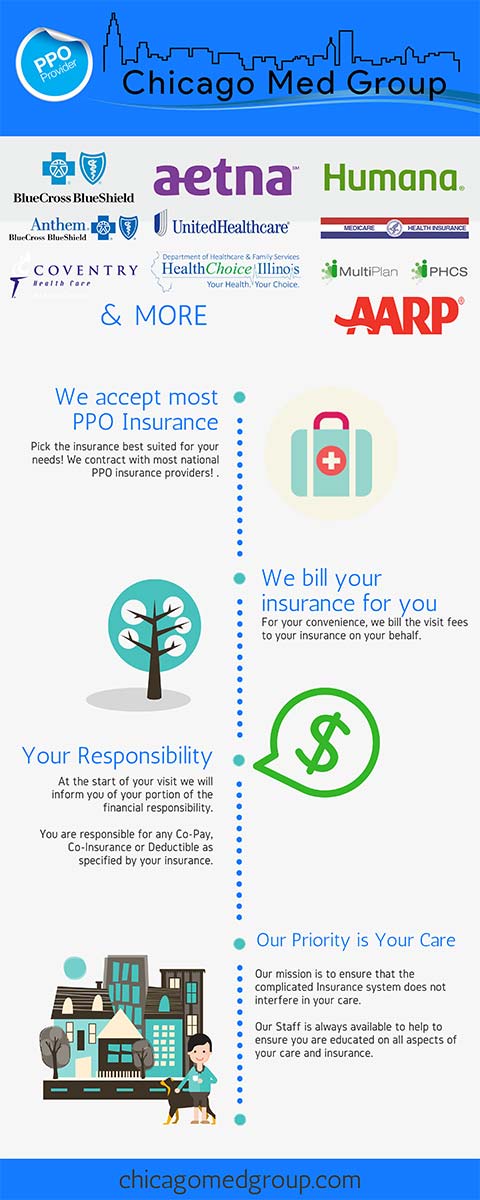 What our patients have to say
The staff and medical team, extremely friendly and professional in all aspects of my visits and concerns.
easy to make an appointment and very friendly staff. Always willing to go the extra step. They make you feel you are the only patient and take time to speak and evaluate you. They even take the time to call you to discuss test results.
Dr. Munoz and his staff are fantastic. Clean office, people are friendly and engaging, and they were very prompt. I visited for an FAA Class 1 medical exam, and I will be visiting them again for my next one.
Friendly staff. Office ran on time. Dr Munoz treated my concerns very well.
Both Doctors are very nice.lots of knowledge they treat patients with respect and kindness. I'm very lucky know them. Dr office is always clean and the staff are friendly too.
Absolutely amazing care. I went in for my pilot physical. I was greeted and treated with the up most respect and kindness. The doctor as well as the nurse and receptionist made sure everything went smoothly and were very engaging. Everything was easy and fast. Such kind people!
Frequently Asked Questions
We work with all major PPO Insurance plans including (BCBS, Humana, Aetna, UnitedHealthcare, Cigna)
For specific coverage information, we will be happy to verify your coverage, call or text us at 773-755-2600.
Our doctors specialize in several specialties:
Primary/Family Care
Women's Health
Knee (orthopedic) Injections
Sports Injuries (Runners welcome!)
CDL / DOT Medical Exams
USCIS i693 Immigration Physicals
Pilot/Airman FAA AME Exams
We can answer any of your questions, simply call/text us at 773-755-2600

We are here to help. Call or text us with an questions or to schedule your appointment with Doctor Munoz or Doctor Cvengros.
MONDAYS: 9 AM – 5:30 PM
TUESDAYS: 8 AM – 6:30 PM
WEDNESDAYS: 9 AM – 5 PM
THURSDAYS: 8 AM – 6:30 PM
FRIDAY: 10 AM – 6:30 PM