our vision is
to keep you healthy & fit
Our staff are Bi-lingual Medical Professionals dedicated to your well-being
Questions or Appointments: Call / Text us
773-755-2600
Our practice & services designed around You
Through our independence, we can more efficiently offer tailored medical care to each of our patient's unique needs.
We provide the highest quality primary care with an emphasis on prevention, early detection and management of chronic conditions as well as lifestyle and dietary changes to keep you healthy and fit.
To fulfil our goal, we focus on constant, clear communication, transparency, and providing a family-friendly environment with staff ready to provide individualized treatments and follow-up you need to feel confident in your care.
We are conveniently located in Lincoln Park at the corner of Diversey Parkway and Sheridan road. We can be reached via phone, walk-ins or online.
When you need the best primary care doctor in Chicago, Doctor Munoz & Doctor Cvengros will go above and beyond the standard medical care to give you the most innovative and personalized care.
FLEXIBLE APPOINTMENTS
We have a strong commitment to give you exceptional first line care and we offer convenient walk-in or same-day appointments to save you long wait times. See the doctor when you need to!
INDIVIDUALIZED SERVICE
We have the expertise and compassion to guide you through the most challenging times of early detection to treatment and management, providing you with individualized services that will not only extend your life but add quality to your years. We strive to create a compassionate, healing environment of community & collaboration.
YOUR HEALTH, CLARIFIED & SIMPLIFIED
We combine medical care with prevention and nutrition to create a road map for your healthy lifestyle.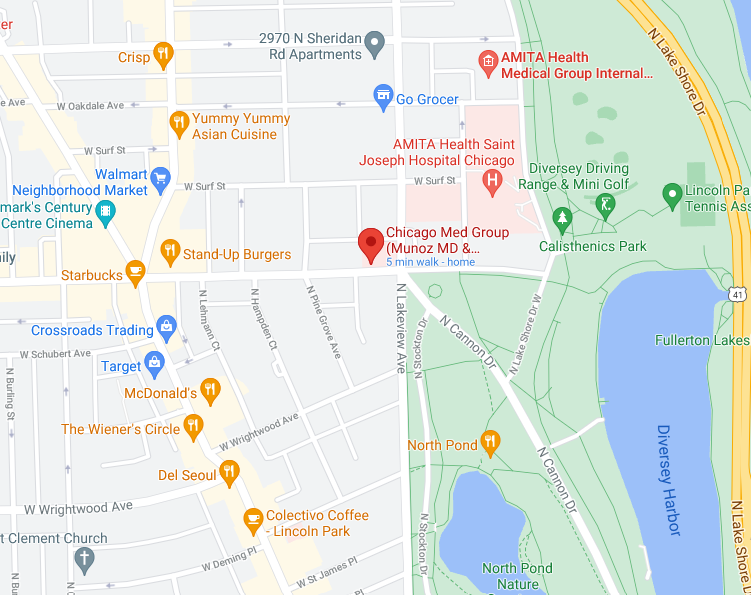 2800 N Sheridan Suite G2, Chicago IL 60657
We are located in Lincoln Park (Near Lincoln Park Zoo) at the corner of Diversey and Sheridan.
Monday: 9:00 AM – 5:00 PM
Tuesday: 9:00 AM – 5:00 PM
Wednesday: 9:00 AM – 5:00 PM
Thursday: 9:00 AM – 5:00 PM
Friday: 10:00 AM – 5:00 PM
Saturday: 9:00 AM – 1:00 PM
Dr. Munoz and his staff are fantastic. Clean office, people are friendly and engaging, and they were very prompt. I visited for an FAA Class 1 medical exam, and I will be visiting them again for my next one.
What a delightful experience. I'm a pilot who found myself needing a class 1 flight physical on short notice and I couldn't have chosen a more accommodating and friendly place. I think I'll be flying to Chicago for my physicals from now on.
Absolutely amazing care. I went in for my pilot physical. I was greeted and treated with the up most respect and kindness. The doctor as well as the nurse and receptionist made sure everything went smoothly and were very engaging. Everything was easy and fast. Such kind people!
Both Doctors are very nice.lots of knowledge they treat patients with respect and kindness. I'm very lucky know them. Dr office is always clean and the staff are friendly too.
Great caring Physician, above and beyond quality care, my family has seen her and spouse for over 20 years!
Los Doctores son maravillosos y muy atentos con sus pacientes. La oficina muy limpia, y las asistentes son muy lindas siempre ayudando.
Questions or appointment requests
We can often see you the same day. To inquire, please text or call us at 773-755-2600. 
To schedule an appointment, please fill in the below form and we will contact you to confirm your appointment.